Dragon Belly Ceramics
Contact the Artist
I am a writer and potter in the Boston area. If you stumbled upon this website, but are looking for my novels, please head to http://www.ljcohen.net. If you have questions about my pottery, please contact me by email (lisa@dragonbellyceramics.com): Send Mail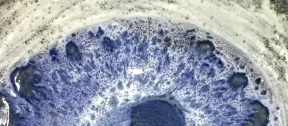 color sample; nebula bowls
My work is highly variable and much of it made to order, though I am very likely to have dragon belly mugs, starry night mugs, and some nebula bowls available at any given time. If you are looking for something specific, or something in a different size than listed, please contact me.
Shipping is variable and depends on weight/distance. Please contact me for specifics.
I am also available to participate in art trades, as well as donate items for charitable causes.
Price List:
Thrown mugs, 8 - 12+ oz = $18 - $22.
Thrown bowl, soup/cereal = $22.
Thrown bowl, serving (medium) = $36.
Thrown bowl, serving (large) = $62.
Dragon belly mug, 12 - 18 oz. = $24 - $32.
Other work, custom items, teapots - please ask